10 things that would be different if Beyoncé's Lemonade was set in Glasgow…
So unless you've been hiding under a rock, or you're a die-hard Azealia Banks fan, chances are you've come across this little thang called Lemonade that people are talking about. Maybe even managed to find a link outside of Tidal (sorry, not sorry Jay Z, I just don't get it). Here at Glasgow Living we started wondering about making our own version of the visual album because, you know, we have time, and we would love to hear your ideas on how we can bring Lemonade to life in the Dear Green Place, as a special present for Beyoncé ahead of her visit in July.
*disclaimer: yes, we are aware of the thousands of words of analysis on the cultural and racial significance of Lemonade and the strong feelings it invokes. We aren't poking (that much) fun. If anything, it's a fortuitous joining of time and place designed to expand the possibilities of both parties. Discuss.
1. It would be called Irn Bru
Well, duh.
2. The iconic fur would be picked up from a West End vintage shop
3. And speaking of the premier, it would have been on George Bowie's Clyde 1 morning show
This is nearly as dramatic as the time that George Bowie turned out not to have died, and people were just confusing him with David.
4. The opening underwater scene would be shot on Buchanan St on a rainy day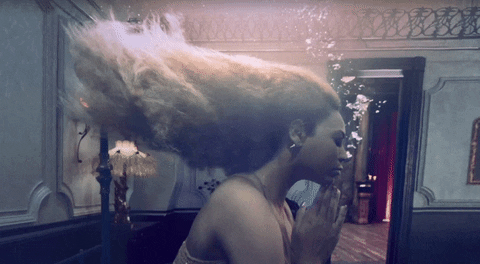 Finally, the dreich weather is good for something other than raining on our parades all the time. Literally.
5. A day trip to St Peter's Seminary would get all the atmospheric, building shots down
6. THAT yellow dress would be replaced with THE dress
Far more practical on a windy Glasgow day. And it has a proven track record for achieving high drama levels, just right for Beyoncé's legendary status.
7. Becky with the good hair would be fresh outta #Blow Finnieston
Check out the original post here.
I know we aren't supposed to like her, but I think we can all appreciate how AMAZING this hair is.
8. The stage scenes take place at the Britannia Panopticon
This is the oldest music hall in the WORLD. A worthy stage. Let's not mention the fact that it is thought to have escaped fire damage due to the urine-soaked wood. We like to think that gives it character.
9. The edgy oversized hoody is most definitely an Abandon Ship number
Nailed it. Get your own here.
10. Lemonade might have a long list of contributors, but we bet Irn Bru could pull some strings and get the best minds involved.
[youtube id="e5ocaypgRHM"]
I mean, just look at their past adaptations of popular culture behemoths?!
I think we have the basic ingredients for a great Irn Bru fizz-ual album, guys. Surely we can at least do better than Lemonjames? James Corden has some great wigs but our gingers are definitely better. Looking forward to hearing your thoughts, Glasgow.