Glasgow in Springtime: 9 Tips to Banish the Blues
The first day of spring marking the end of another soggy Glasgow winter is often just the ticket to cheer up the blues. However, it will take a lot more than a glimpse of sunshine and the return of some colour to Glasgow's park flowerbeds to make a difference for the 8% per cent of Glaswegians being treated for depression. This figure is 1% per cent than the Scottish national average and does not include those who are undiagnosed or those dealing with other detrimental mental health illnesses. There is a far greater awareness of mental illness these days, from the Mental Health Awareness Week to the Duchess of Cambridge's decision to campaign for mental health awareness in youngsters. It is still essential to break the stigma which still prevents us from opening up about mental illness, did you know that suicide is the biggest killer of men under 45 years old?
The mysteriously malevolent Glasgow Effect has been blamed for the higher levels of depression in the city, and whilst researchers are still struggling to come up with an explanation and a solution for this phenomenon, here at Glasgow Living we have decided to put together some ideas of ways to cheer yourself up a bit in Glasgow this spring, for little to no money. These are never intended to be cures and they might not be for everyone, but if you've noticed a friend having a bit of a hard time recently, why not take them out for the afternoon and try out a suggestion? Let us know how you get on!
1. Get Outside
Yes, we know, everyone else in the UK is going on about spring whilst we wave forlornly after scarves and umbrellas whizzing off down Buchanan Street in the wind and rain. Going outside when you have depression is impossible at the best of times, but with a little help from a friend and the hope that you'll feel better afterwards (you will), a walk in the park will do good. The Dear Green Place is scarcely lacking in options, check out a list of parks here, and don't forget to get a nice ice-cream afterwards as a reward – one bonus of our springtimes is that it's rarely warm enough to melt them within two minutes – hurray!
2. Get Out of the City
Okay, so we're cheating a little with this one as it isn't in Glasgow, but sometimes a nice day out is all you need. With the gorgeous national park of Loch Lomond just a train ride away, it's as good a time as any to get some comfy shoes on, pack up a picnic and lounge on the banks. Exercise is one of the best things to help with all sorts of ailments, especially anxiety and depression, and we are lucky to live in a place with such beautiful scenery to get the walking started. You'll be up and running again in no time!
3. Get Arty
It can be difficult to find the words sometimes when depression has made them all seem a little useless, so many people find art to be a great way of relaxing and clearing a worried mind. This needs only cost the price of a pad of paper and some pencils: try sketching things in the house or sit in a café and draw what you see around you. Glasgow has a huge number of talented art teaches who can offer classes to those who need a bit of help getting started. This can, of course, get a little pricey but there should be options to suit most budgets. I can personally recommend Art Classes in the Botanics – a course of classes might not be feasible for everyone but the weekly life drawing classes are just ten pounds with no commitments – you just decide what week you might want to attend, book it, and away you go – with all skill-sets welcome (I couldn't hold a pencil when I started).
4. Get Crafty
Sometimes it's difficult to see the point in art when you're feeling like you can't see the point in anything at all, and that is when the crafts come out. When did a knitted item of clothing ever get labelled useless?! Poundland has a great range of affordable bits and pieces to get started on making cards, but if you think sewing or something else might be more your thing – just give it a go! Anything that requires enough concentration to keep your mind off whatever is bothering you is a good thing in my book. Why not try your hand at making some cute easter cards?  And, of course, sending them out, which leads on to the next point.
5. Send Letters
There's something very therapeutic about the physicality of writing with pen and paper that typing will never quite emulate. I find it much easier to arrange thoughts when writing and seeing them on a page. Write letters, send them if you like, and even if you don't feel any brighter afterwards, take comfort in the fact that it will be a lovely surprise for the recipient and that you had to go out, find a card, find stamps and walk to a postbox which is an achievement in itself on a bad day. Got no one to write to? Postcrossing is the most wonderful thing in the world – you send a postcard and receive one back from anywhere in the world when you least expect it. If springtime in Glasgow isn't working out for you, ask for cards of springtime in other countries instead!
6. Get Talking
Whilst it is important to get professional medical help when dealing with mental illness, it is also important to try and keep up with friends and family, as often they will know you better than even a counsellor could. Waiting times for mental health therapy are notoriously long, and no matter how supportive friends and family are, it can often be very challenging to open up about things to them – mainly because there is a guilt associated with worrying loved ones about the dark thoughts depression fills us with. There are other options in Glasgow if you are finding it difficult to cope whilst waiting for professional help – universities often offer drop-in sessions with a trained counsellor, TimeOut has weekly support group meetings and the Tom Allan Centre is committed to providing counselling where each individual pays what they can, depending on their financial circumstances, to ensure that everyone can get the support they need.
7. Get Listening
A great conductor once said:
'A painter paints pictures on canvas. But musicians paint their pictures on silence'

~Leopold Stokowski
Yes. It's cheesy. But sometimes when you just want to sit about in silence, it can be better to do it where there's some lovely music to distract from it. An invite to open mic night at the pub is a great way to enjoy an inexpensive musical fix. If you're avoiding alcohol – often a good idea if you're taking any medical treatments for mental illness – an evening of classical music at the Concert Hall is a pressure-free way to stay sober and enjoy some of the world-class talent that pops into Glasgow for a wee song and dance every so often.
8. Be Patient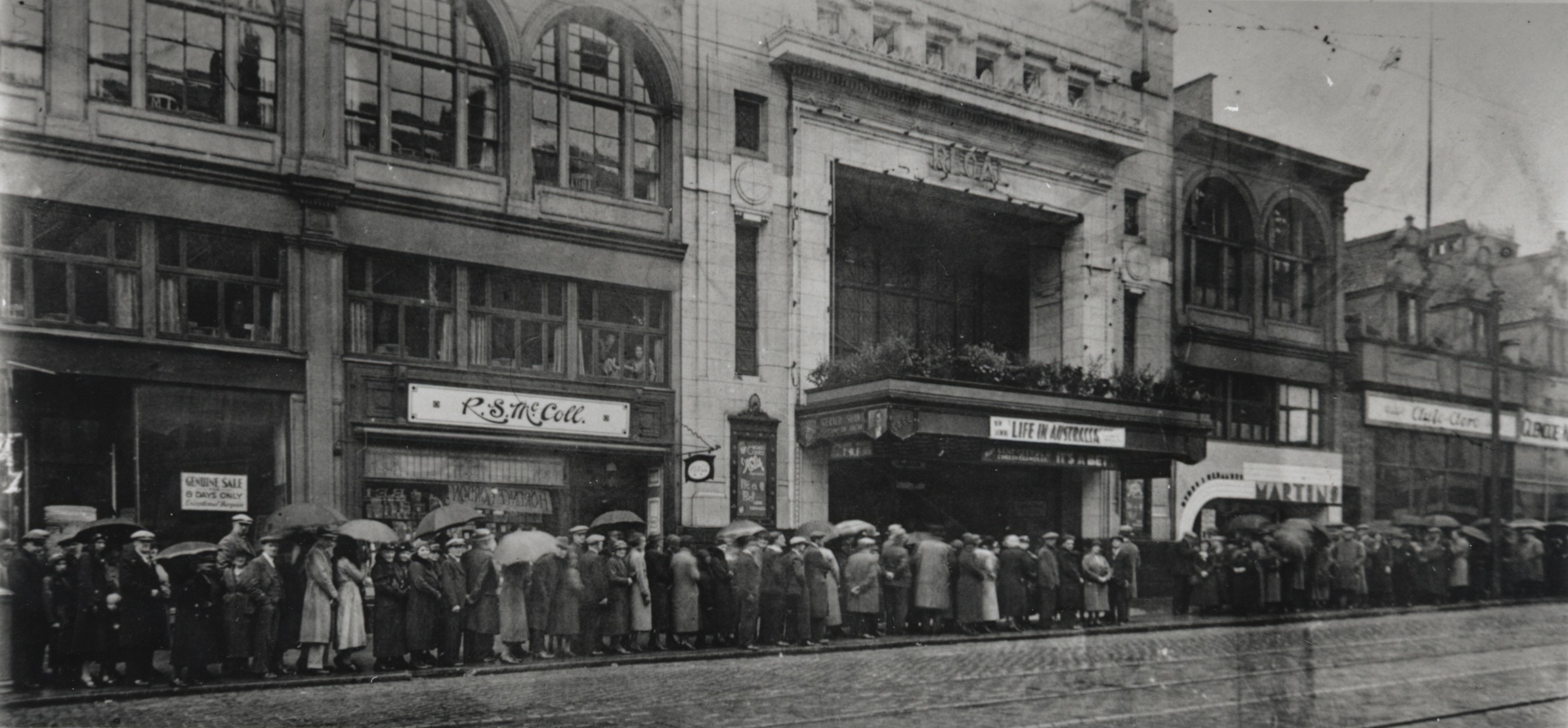 I'm not sure if Glaswegians have a reputation for patience or not – but whenever I see a queue outside Greggs it reassures me that rep or not, they possess it by the bucketload when they need to. This one applies whether you are trying to help out a friend with their issues, or battling them yourself – most people don't develop depression overnight and as such, it is always going to be an uphill struggle to see the positive side of things again. A gradual but determined approach often helps, and it's important to be patient with yourself. Everyone's experience is different and unique to them, but it can always be overcome.
9. Get Informed
If you or a friend/loved one are worried about mental health then the first step is to get down to your GP to have a chat. This is often the absolute scariest part of what can be a very scary illness, but be brave, and if you don't get the support you were hoping for (very, very unlikely, but important not to get disheartened if this does happen) then find another medical expert to give some advice. Several charities can provide more information and support:
Mind – The Mental Health Charity
See Me Scotland – 5 charities committed to changing the stigma surrounding mental health
NHS Scotland – Mental health information page
Remember that The Samaritans are always there to talk 24/7 whether over phone, email, text or even a good old fashioned letter – click here for more information.