Awesome Open Mic Nights in Glasgow Every Night of the Week
Whether you have the voice of an angel and dreams of hitting the big time, or the only time you get caught 'singing' is when you're blind drunk, in the shower, or both (please be careful), an open mic night is a great, casual excuse to get out and about in the evenings and support Glasgow's thriving music scene right at the very grassroots. Feeling inspired? Check out our selection of Glasgow open mic nights and remember – you saw them here first.
Clutha Bar – Monday
You are using the [facebook] shortcode wrong. See examples
here
.
Clutha runs several open mic nights each week, but for the sake of the seven days we'll pop them in the Monday slot. Apparently Paolo Nutini doesn't turn up every week, but after seeing this I'm probably going to go religiously just in case. Monday nights in this favourite Glasgow establishment – only minor problem is this might be a tough act to follow. We have faith in you!
Munros – Tuesday
If the night is anywhere near as much of a treat as the poster is, then Munros are definitely hitting the spot with their Open Mic night. Hosted by Shambles Miller and Ryan J. Burns, the fun starts on Tuesdays from 9pm.
Dukes – Wednesday
Wednesday night from 8.30pm is the time, and Dukes is the place. One of my favourite open mic acts (check them out here) (somewhat) officially named Dukes as their favourite jamming spot, so it must be true. Uplifting midweek pub sessions at their best!
Boteco do Brasil – Thursday
If you fancy yourself as a bit of a Shakira (come on, who doesn't after a few cocktails?) then get yourself down to Boteco Do Brasil on a Thursday night. All musical genres are welcome but we have a funny feeling that the samba beats will be especially prevalent. I always knew those years learning the lyrics to Macarena would pay off someday.
Shanghai Shuffle – Friday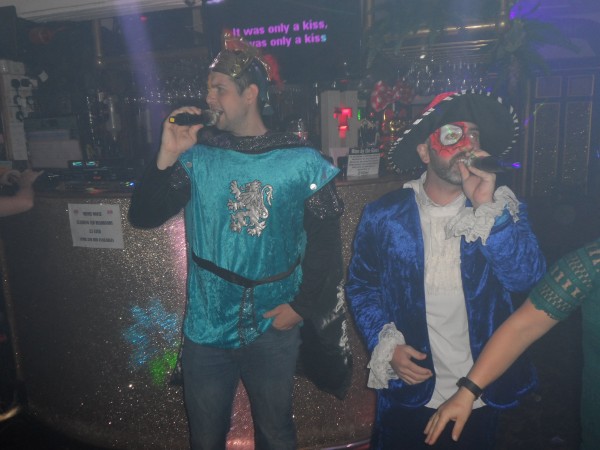 Everyone knows that karaoke is just the drunk and disorderly little sibling of Open Mic, so it's the perfect musical delight for a Friday evening. We searched far and wide for the most fabulous purveyors of the humble karaoke, and by Jove, I think we've got it – Shanghai Shuffle. Every single photo looks as fun, if not more fun than this one (FYI this isn't even from Halloween, it was last week) and the Glasgow Living team will be down soon to test out the hype.
Babbity Bowsters – Saturday
You are using the [facebook] shortcode wrong. See examples
here
.
As an adopted Glaswegian originally from the Highlands, there is a special place in my heart for a good old traditional pub session, and I'm definitely not the only one. Dust off the fiddle or just get that foot tapping with a visit to Babbity Bowsters on a Saturday afternoon, and get a fix of the traditional open mic.
Bloc+ – Sunday
There's no need to start mourning the weekend just yet, keep the Sunday vibes going strong with a chilled out night in Bloc+. Partake in the delicious food and a few Buckfast icecreams should warm up the vocal chords nicely for a performance-worthy rendition. Just make sure your song choice doesn't place you in violation of the 'nae bams' rule and all will be well.